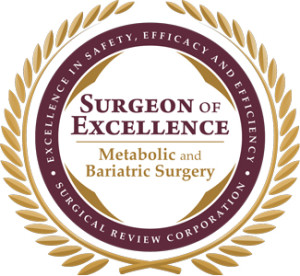 Quality & Accreditation
Surgical Review Corporation, USA, well known for providing Center of Excellence recognition, in 2012 accredited Dr Ramen Goel as "1st Indian Surgeon of Excellence in Metabolic & Bariatric Surgery(SOEMB)." This outcome based accreditation recognizes hospital infrastructure, surgical volume, safe outcomes, low reoperative rate & low mortality rates in the hands of individual surgeon. SOEMB is continued audit of a bariatric program & we are obliged to enter every patient's data in an international registry.
Safety & Results
Criterion
Our Results
Published Outcomes
Bariatric Surgeries
~250/year
–
Mortality/Death
0.05%
0.05% – 1%
Inadequate weight
<0.5%
15% – 25%
Excellent outcomes at Centre for Metabolic Surgery can be attributed to:
All surgeries are done by Dr. Ramen Goel himself ( Dr  Goel focuses completely on bariatric surgeries & does not do other surgeries)
Consistent & experienced surgical team working with Dr Goel for > 12 years
Extra surgical steps including suturing, fibrin glue, reinforcement & omental patch to reinforce staple line & to avoid leaks
100% protocols for pre & post surgical management
Internationally trained nutritionist, counselor & bariatric physician
Bi- monthly support group meetings
Unlike other surgeries, the success of surgery does not end with discharge from hospital. The success of surgery should be assessed by following parameters –
Surgical Outcomes – Dr Goel's concern & meticulous surgical approach has resulted in low mortality surgical outcome for over 14 consecutive years. This unmatched result, in a center with 250-300 bariatric surgeries every year, is the reason that people who have done extensive research prefer getting operated at CMS.
Weight Loss Results – A bariatric program is as good as the focus of its surgeon. Less than 5% patients at CMS report inadequate weight loss/weight regain, compared to ~20% reported by programs worldwide. Extensive counseling & follow up program followed by CMS team after extensive training & research is unique & helps patient not only lose but also maintain weight long term.
Re-operation Rate – If weight loss outcomes are as expected, the re-operation rates have to be low. At CMS, we do not take pride in re-operations. Even failed patients from other surgical centers are motivated to lose weight through our follow up program. However, Dr Goel is considered an international authority on re-operative bariatric surgery & patients from across the world travel for their surgery at CMS.
Scarless Surgery
Key hole or laparoscopic surgery has gained popularity because of patients comfort & absence of long scars. Various measures can help hide even these small scars for excellent cosmetic outcome. Discuss the benefits & limitations of each of them with your surgeon before taking a decision. The options offered at CMS include –
Mini Lap Bariatric –

In this recent modification of bariatric surgery, pioneered by Dr Goel, very fine 3 mm cuts are made instead of usual 5-12 mm cuts. The advantage of this technique is that every possible safety step can be replicated as in a conventional laparoscopy. The potential incisional hernia associated with single port is also avoided. The cuts are so small that no sutures are required & wound close spontaneously. Most of the patients are unable to locate these scars within 2 weeks of surgery.

Single Port Bariatrics –

An exciting technological innovation for surgery through a single 2.5-3.0 cms cut in naval. Usually an additional 3 mm cut in upper abdomen is required in bariatric surgery for liver retraction. The naval scar is practically not visible immediately after surgery. Though this technique has phenomenal potential in general surgery, careful patient selection is essential in bariatric procedures for safe outcome.

Use of skin glue instead of stitches – This is a standard approach in all bariatric surgeries in our bariatric program & helps avoid any stitch marks.
Pictures of Mini lap, single port & post op incision with glue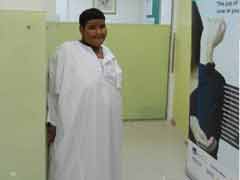 Adolescent Program
For the first time In India, a dedicated bariatric program for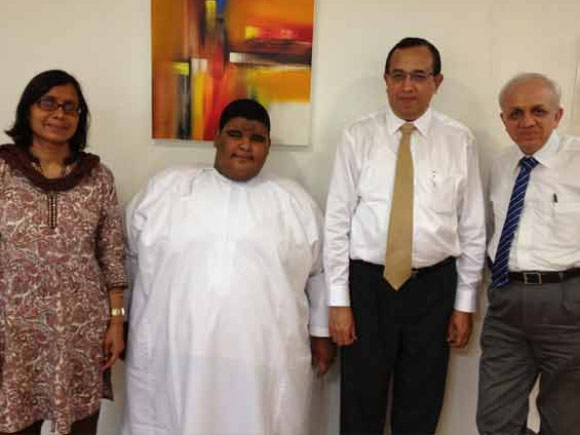 bariatric surgery in children & teenagers was started in 2012.
Our surgical team has been trained at Cincinnati Children's Hospital, USA. The strength of TEENS lies in the combination of the expertise of Dr Ramen Goel, a bariatric surgeon & experience of Dr Ketan Parekh, a paediatric surgeon. Paediatric Endocrinologist, Counsellor & Dietitians are integral part of TEENS.
Through TEENS, science based international protocols are available for obese children, as these patients require specific preparation,children specific post-operative support as well as exclusion of non-operable cases. Unlike adults, the family environment improvement is an important component for children in this age group.
Overseas-Patients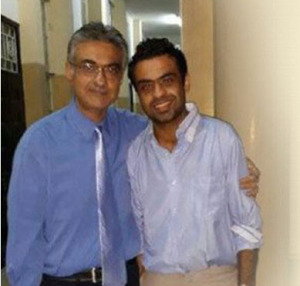 Over 30% of patients treated at CMS are from other countries. Dr Ramen Goel has operated patients from USA, UK, China, Nigeria, Kenya, Uganda, UAE, Brunei, Iceland, Canada, Singapore, Hong Kong, Australia, New Zealand, South Africa, Spain, Greece, Oman, Saudi Arabia, Tanzania, Congo, Pakistan, Bangladesh, Sri Lanka etc.
The reasons attributed by patients travelling to India for surgery include
Highly skilled surgical team
Customized bariatric facilities
Comprehensive program
Electronic long term follow up
How to proceed
Fill in the Quick Connect form- be assured of a response within 24 hours.
Once approved, you can communicate with Dr Goel over skype/ facetime / call to clarify any further details.
Preoperative preparation includes presurgery investigations ,preoperative diet & breathing exercises ( details can be mailed ) for 1-2 weeks.
Travel visa – Medical visa is required to avail treatment in India, we can provide letter to facilitate visa issue by the Indian consulate in your country.
You need to stay for 7-10 days in Mumbai.
Our travel desk can assist with airport pickup & hotel bookings if required.